River Cleanup Montpelier
2018 WINOOSKI RIVER CLEAN-UP! SATURDAY, SEPTEMBER 8TH, 8:30AM-NOON
September is Vermont River Clean-up Month, and Friends of the Winooski needs your help to pull trash out of the rivers at several sites in and around Montpelier. We will use canoes to collect garbage from the river; if you have an old aluminum boat that you don't mind filling with tires and scrap metal, we'd love to use it.
Please come prepared to get dirty! Wear appropriate clothing, including shoes that can be worn in the river; bring a snack and water, gloves (if you have them) and protection from the elements. This includes both sun and rain.
If you have questions, please contact Shawn or Michele by email [firstname] at winooskiriver.org.
Meet at Montpelier City Hall, 39 Main St., Montpelier, at 8:30am.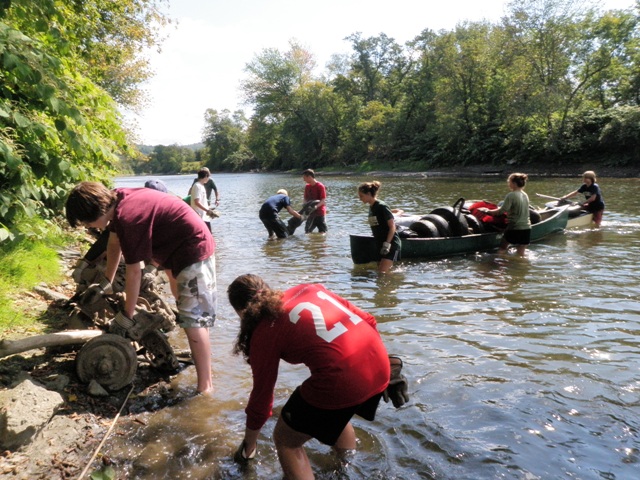 Donate Now
Your financial support has a direct impact on the river! Your $50 donation purchases 10 trees or shrubs to reduce erosion and improve habitat. Your $100 donation allows us to add another water quality sampling site, so that we can pinpoint problem spots and start working on solutions.
Your membership means more steps toward a clean, healthy, and resilient Winooski watershed.

Sponsor our Paddle Program
Do you love to get out on the water? We have three paddling events this summer, and we're seeking Sponsors. We have been sponsored in the past by Ben & Jerry's, Concept2, Seventh Generation, and many more Vermont brands who want to connect with outdoor recreation enthusiasts. Our events draw hundreds of participants, volunteers, and spectators, and we would be proud to thank you for sponsoring these fun days on the water.
Contact Michele Braun (michele [at] winooskiriver.org) to become a sponsor today.
Mud Season Arrives
April showers bring May flowers, but they also bring polluted runoff to streams in our watershed. Do you have erosion issues on your land? We can help you find solutions!
We work with private landowners to design green solutions to erosion and runoff problems, and we can provide funding to make improvements so that your land isn't damaged by storms, and isn't washing mud into streams.
Contact us today at [email protected] to tell us what's happening when it rains on your land. We would love to help!
We planted 4,000 trees!

Winooski watershed volunteers plant thousands of native trees and shrubs along streambanks every year to reduce erosion and improve habitat and water quality. You can join us on any of our planting days. Put together a crew for an employee service day -- it's a fun day outside, and rewarding to make a difference for our rivers. Check out dates and locations here: https://winooskiriver.org/event-planting.php
Events
Face the River Talk
September 06, 2018 07:00 pm - 08:30 pm
Friends of the Winooski River and the Vermont River Conservancy present a joint talk about the future of Montpelier's rivers. What can capital residents do to improve water quality, and improve our relationships with our rivers?
River Clean-up
September 08, 2018 08:30 AM - 12:00 PM
Volunteers needed for river clean-ups in the Montpelier/Barre areas. Meet at City Hall in Montpelier at 8:30 AM.
http://www.winooskiriver.org/river-clean-up.php