River Clean Up
The date of the 2018 Winooski River clean-up has been announced. Saturday, September 8th, from 8:30am-noon. Please join us for a fun fewhours of picking up trash in and along the river. Kids are welcome, but anyone under 18 must be accompanied by an adult.
September is Vermont River Clean-up Month. Volunteers all over the state are needed to help pull trash out of our waterways. Our event will be held in the Montpelier/Barre areas. We will use canoes to collect garbage from the river. Some of the trash will be transported to Montpelier High School for Junk Art sculptures.
Please come prepared to get dirty. Wear appropriate clothing; bring plently of food and water, gloves (if you have them) and protection from the elements. This includes both sun and rain. See What to Expect at a River Cleanup below for more information.
Meet at Montpelier City Hall, 39 Main St., Montpelier, at 8:30am.
What to Expect At a River Clean-up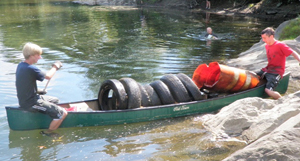 Unlike Vermont's Annual Green-up day where trash removal focuses on road sides, river clean-ups involve getting in the water and hauling stuff up off the bottom of the river as well as scouring the banks for debris. Because of this we hold the clean-ups in August and September when the water level is at it's lowest and water temperatures are at their warmest.
We provide boats, buckets and work gloves for participants but ask that they wear clothing they don't mind getting wet and or muddy. We highly recommend that participants wear closed-toed shoes to avoid stubbing toes on rocks or debris under the water.