Riparian Buffer Plantings
Each year, we work with landowners and volunteers throughout the watershed to improve streamside buffers that help reduce erosion and improve water quality and habitat.
This May, volunteers, FWR staff, and partners planted just under 2,000 trees and shrubs along the banks of the mainstem Winooski River, Great Brook, and the Little River!
Volunteers from local schools, businesses, and communities within the Winooski Watershed joined us this year at sites in Plainfield, Marshfield, and Stowe. You can view photos from our 2017 planting season on our
Flickr page
.
The restoration of riparian buffers supported by these volunteers will improve water quality by preventing sediment, nitrogen, phosphorus, pesticides and other pollutants from reaching a stream. Trees and shrubs also secure soil on the banks, preventing erosion, and soak up flood waters. Fish and other aquatic life love trees because they keep the water cool, increasing the dissolved oxygen in the stream.

Thank you to all of the landowners we worked with this year, Partners in Fish and Wildlife for the technical support and resources, the Intervale Conservation Nursery and Drinkwaters Nursery for the bare root stems, and last but not least, our volunteer groups and individuals:
National Life, Trudell Consulting Engineers, Stowe Land Trust, Don McDowell's class from Stowe High school, Jeff Grogan and the garden club from Stowe Middle School, Green Mountain Valley School, Cabot Creamery, Virginia Collins' class from Websterville Baptist School, Charlie Wanzer's class from Twinfield School, Suz Stillinger, Tad Dippel, Allen Banbury, Nathan Davidson, and Wynter Mindnich.
The Onion River Race and Ramble
The fourth annual Onion River Race and Ramble was held on Sunday, June 4th. 115 paddlers and 35 volunteers came out on a sunny day to partake in the event. You can check out the official racing times on our Race page.
Umiak Outfitters and Clearwater Sports provided shuttle service for paddlers. After the paddle, participants were treated to a delicious lunch courtesy of the Beacon Light Grange in Richmond, as well as meat and veggie burgers for sale by Cub Scout Troop 646. The Friends own Colin McCaffrey provided some tunes while another board member, Tad Dippel, ran demos on the Friends' stream table. Prizes were donated by Seventh Generation and One Radish Eatery in Richmond and awarded to the top three finishes in each racing class, as well as the winner of the Best Bow Ornament contest.
WCAX reported on this year's event. Check out that video here! Also check out photos from this year's event courtesy of VermontSUP.com/JTJ Photos
We're already looking forward to next year!
Thank you to all of our participants, volunteers, staff and board, partners and sponsors for making this a successful event. A full list of sponsors can be found on our Race page.
Dog River Floodplain Restoration
Friends of the Winooski River has been a key partner to the Town of Northfield on the Dog River Floodplain Restoration and Water Street River Park Project.
In 2011, Tropical Storm Irene devastated the Water Street neighborhood of Northfield, which is adjacent to the Dog River between Norwich University and downtown. Nine of the fourteen buyouts that resulted were concentrated in one area of Water Street (the half-moon shaped area on the map above.) This area, now owned by the Town of Northfield, is slated to become the Water Street River Park.
The Friends used a grant from the State's Ecological Restoration Program to analyze how different alternatives for the floodplain restoration site and other areas, upstream and downstream, could help mitigate flooding in the neighborhood and further downstream. The Friends and the consulting firm, Milone & MacBroom, reviewed the analyses with Town officials and the State River Management Program to select the set of options that has the greatest impact. The final engineering designs are being completed this summer.
Led by the Northfield Conservation Commission, the Friends and partners have also been running a newspaper series related to Irene recovery, river science, climate change, and the park, this summer in the Northfield news.
Support the Friends Today
The Friends of the Winooski River's mission is to safeguard and enhance the natural resources of the Winooski River watershed in order to create a healthy balance with its human communities. We pursue this mission through restoration projects, monitoring, partnerships, education and outreach.
Membership support is critical to our mission. We ask you to support our mission and programs through membership. Click the orange button at the top right corner of this page or the link below to join the Friends in restoring and protecting the Winooski River watershed!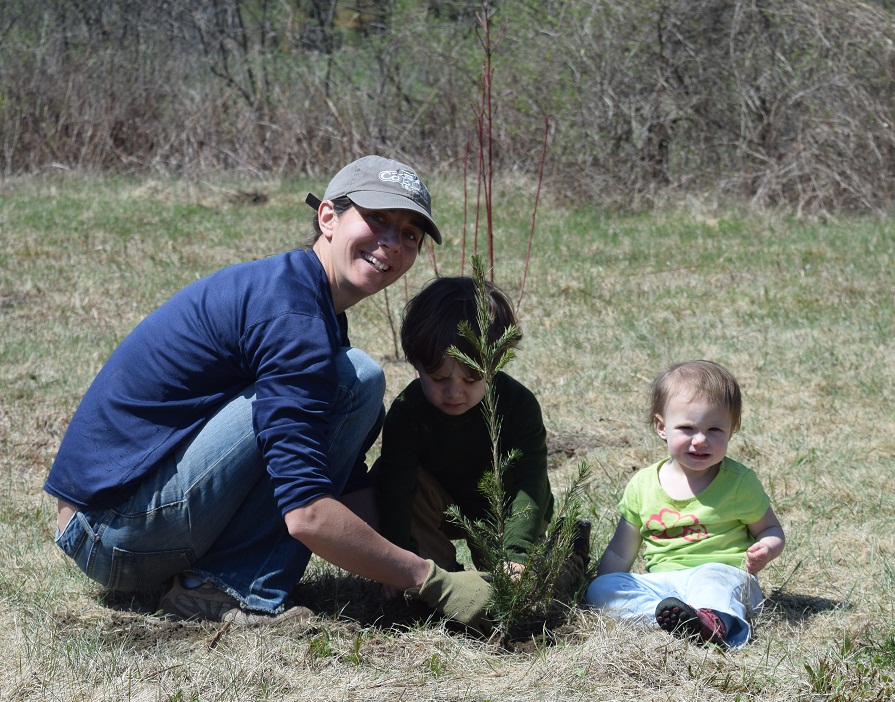 With member support, we achieved the following and more in 2016:
Planted 2250 trees and shrubs on five properties throughout the watershed;
Constructed two stormwater runoff reduction practices at the Cabot School;
Completed a floodplain restoration design in Northfield on the Dog River;
Created stormwater master plans for the Huntington town garage; the Smilie School in Bolton and for a neighborhood in Barre;
Worked with volunteers to collect water quality data at 36 sites throughout the watershed.
In 2017, we look forward to working on a number of challenges such as:
Working with landowners on riparian protection and restoration projects;
Constructing stormwater management practices in several towns;
Restore floodplain function along the Dog River in Northfield that will protect water quality and public and private infrastructure; and
Conducting education and outreach programs throughout the watershed.
Events
Stormdrain Stenciling with VHCB
June 28, 2017 09:00 am - 03:00 pm
The Friends and volunteers and staff from the Vermont Housing and Conservation Board will be stenciling stormdrains in Richmond to raise awareness about the need to keep pollutants out of our waterways. If you're driving through Richmond, please go slow--and give us a honk! No additional volunteers are needed at this time.
Private Roads and Driveways Maintenance Workshop
July 17, 2017 06:00 pm - 08:30 pm
This event has been postponed due to weather. Monday, June 19th, from 6 - 8:30 pm at Old Schoolhouse Common in Marshfield, at a workshop for private road and driveway owners. Participants will learn more about best management practices that reduce erosion, protect water quality, and save money on road repairs. Follow the link below for details
Winooski Pedal and Paddle
July 23, 2017 10:00 am - 05:00 pm
The Friends is partnering with the Winooski Valley Park District and Winooski Parks and Recreation to create this new event in 2017. The approximately 4 mile pedal is predominantly on dirt paths and roads along the river and through the Intervale Center to Winooski. In Winooski, you will hop in your canoe or kayak and paddle back to the Homestead on the Winooski River through the beautiful Winooski Valley. For more details, visit the event page below:
http://www.winooskiriver.org/winooski-pedal-and-paddle.php
River of Light: Harvest Moon Paddle on the Winooski River
September 06, 2017 06:00 PM - 10:00 PM
Join fellow Friends of the Winooski River for the second annual moonlight paddle, the "River of Light," from Heineberg Bridge to Lake Champlain. Visit the event page below for more details:
http://www.winooskiriver.org/river-of-light-moonlight-paddle.php