Four Rivers Fund
In 2015, the Friends launched the Four Rivers Fund which is devoted to the protection and restoration of the rivers and streams in the Barre-Montpelier area. The Fund supports restoration and protection projects, education programs and water quality monitoring. We engage residents and landowners to be stewards of the Winooski River and its watershed.
In the past 18 months, the Four Rivers Fund has supported:
Water quality monitoring included in-stream monitoring and testing of stormwater drainage systems to identify and eliminate pollutants
Two tree plantings along the North Branch in Montpelier
River clean up on the North and Stevens Branch and Winooski River
Student 'river junk' art project
Advised Union Elementary on how to include stormwater runoff mitigation into the redesign of the school playground
Developed a stormwater reduction plan for a Barre neighborhood
Help us continue this work! Visit our Razoo page
2016 River Clean-up - Saturday, September 10th, 8:30am-noon
Did you know: September is Vermont River Clean-up Month?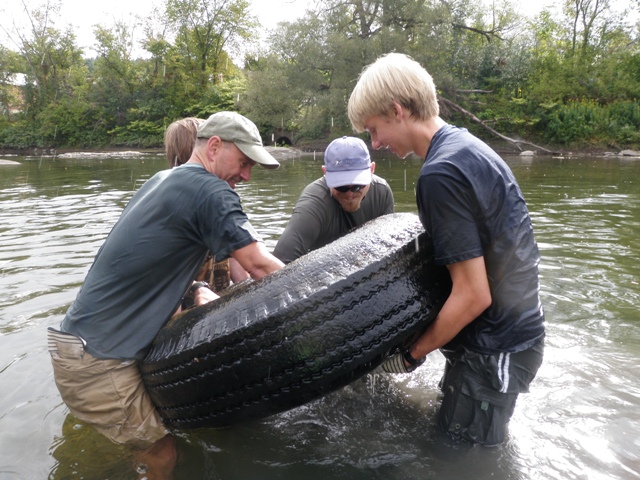 Friends of the Winooski River is seeking volunteers for our 2016 Winooski River Clean-up event. Our event will be held in the Montpelier/Barre areas. We will use canoes to collect garbage from the river. Some of the trash will be transported to Montpelier School for Junk Art sculptures. We will meet at Montpelier City Hall, 39 Main St., Montpelier, at 8:30am. Sign up here: http://signup.com/go/qP5xzN. If you are willing to bring a canoe to use as a trash barge, let us know!
Please come prepared to get dirty. Wear appropriate clothing; bring plently of food and water, gloves (if you have them) and protection from sun, rain, and wind, all of which are likely in September.
River of Light: Harvest Moon Paddle on the Winooski River - Friday, September 16th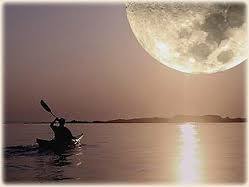 The Friends invite you to join us for a moonlight paddle on the Winooski River from the Heineberg Bridge out to the river mouth. We envision a flotilla of brightly lit boats and paddlers celebrating the near autumnal equinox on an easy two-mile paddle/float from the Heineberg Bridge to Lake Champlain. Shine your lights, howl at the moon, hang out at the lake.
Think about how to light up your watercraft and paddlers for the River of Light Harvest Moon Paddle on Friday, September 16th, beginning at 6pm.
Some ideas:
- Fix poles to front and back and string lights in between
- Paper lanterns on poles
- Collect as many headlamps as you can from friends and wear them as arm bands
- Get some light sticks and grab the duct tape
- Pull up the solar lights from your garden and put them in a tub in the middle of the canoe
- Use your bicycle front and back lights
- Raft boats together to coordinate your display
- Flashlights and duct tape
And don't forget to tell your friends about the River of Light. Those who don't paddle can bike to the Winooski River bridge on the Island Line bike path and watch the flotilla come through at twilight.
Registration is not necessary. More details are on the
event page
.
Summer Field Work: Water Quality Monitoring and Outfall Surveys
This summer, water quality volunteers are collecting stream samples in the Cabot/Marshfield/Plainfield, Barre/Montpelier, and greater Burlington areas. These samples are then sent to a lab and analyzed to determine E. coli, chloride, alkalinity, phosphorus, nitrogen, and turbidity levels.
This is important work. Water quality monitoring plays an important role in keeping the public informed about water quality issues and promoting stewardship of our watershed. Furthermore, this valuable data has the power to influence water quality improvements and shape public policy.
Also this summer, Friends staff and volunteers will be conducting outfall surveys in Barre and Montpelier. What we're doing is sampling the water running out of the pipes--which, in a perfect world, should be strictly rain and snow melt--and testing it for the presence of contaminants such as chlorine, ammonia, E.coli, and phosphorous. If we find high levels on any of these or other tests we conduct, we know there's a problem. Since the stormwater outfall system drains directly into the watershed, we want these issues to be resolved quickly.
You can find out more about our programs and view our most recent reports on our
Water Quality page
.
Events
Northfield Labor Day Celebration
September 05, 2016 10:00 AM - 03:00 PM
Join us at the Northfield Labor Day Celebration for tours of the newly designed Water Street River Park and stream table demonstrations.
http://www.winooskiriver.org/northfield-labor-day-2016-celebration.php
River Clean-up
September 10, 2016 08:30 AM - 12:00 PM
Volunteers needed for river clean-ups in the Montpelier/Barre areas. Sign up here: http://signup.com/go/qP5xzN.
http://www.winooskiriver.org/river-clean-up.php
Four Rivers Water Quality Talk
September 15, 2016 07:00 PM - 09:00 pm
Come learn about protecting water quality in the Winooski River Watershed at the Unitarian Church in Montpelier, 130 Main St., at 7pm. More details to follow.
River of Light: Harvest Mood Paddle on the Winooski River
September 16, 2016 06:00 PM - 11:00 pm
Join fellow Friends of the Winooski River for our first moonlight paddle, the "River of Light," from Heineberg Bridge to Lake Champlain.
http://www.winooskiriver.org/river-of-light-moonlight-paddle.php
Stream table demos and information table at the Montpelier Farmers Market
September 24, 2016 09:00 AM - 01:00 pm
Come experience the wonders of our new stream table and learn about our organization while you browse the Montpelier Farmers Market!
http://www.winooskiriver.org/stream-table-demonstrations.php